| | | | | |
| --- | --- | --- | --- | --- |
| City, town or village | County | State | Country | Elevation |
| Crapo | Dorchester County | Maryland | USA | 3 feet (1 meter) |
| | | |
| --- | --- | --- |
| Latitude (DMS format) | Longitude (DMS format) | Map on which this town can be found |
| 38° 19' 11"N | 76° 7' 52"W | Honga |
Crapo, Maryland is located in Dorchester County, in the southeast corner of the state. It's situated between Lakesville (to the north) and Wingate (to the southeast), on the eastern shore of Maryland and is about 20 miles south of Cambridge.

Time Zone: Crapo, Maryland is in the Eastern Time Zone.

Over the years, points of interest in the region have included:
* Hooper Island
* Honga River
* Barren Island
* Tar Bay
* Bloodsworth Island
* Chesapeake Bay
* The Blackwater National Wildlife Refuge
* Fishing Bay Wildlife Management Area
* Taylor's Island Wildlife Management Area

Recreational opportunities in the area
Boating, canoeing, birdwatching, hunting, crabbing and fishing, are a few of the outdoor recreational opportunities that abound in the region.

Wildlife found in southeast Maryland
Deer, raccoon, muskrat, otters, herons, egrets, sandpipers, ospreys and eagles are some the varied wildlife found in the area's tidal marsh habitat.

Origin of its unusual name
Crapo is of French origin and is derived from the French word for toad, "crapaud" (this will come as a disappointment to some of you, but it's usually pronounced "CRAY-Poe").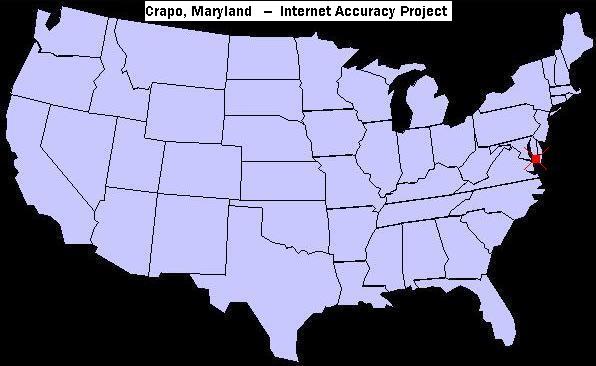 U.S. map showing the location of Crapo, Maryland
For an extensive list of other odd town names in the United States, visit our page of unusual, bizarre or humorous names of towns.