This page offers an alphabetical listing of place names throughout Texas. This is not a complete list of every last place name that has ever existed in Texas. It does include not only a sampling of the largest communities in the Lone Star State, but also a number of smaller towns.

Located predominately in the Central Time Zone with the extreme southwestern corner residing in the Mountain Time Zone, Texas is bordered on the north by Oklahoma, on the west by New Mexico, on the northeast by Arkansas, on the east by Louisiana, and on the south by Mexico.

Each of these cities, towns and place names has been officially recognized as a populated place by the U.S. government.

PUNCTUATION NOTE: The U.S. government does not use possessive apostrophes in U.S. place names. Even when proper punctuation would call for the use of a possessive apostrophe in a city or town name, they are not used. When the name of local businesses, or street names incorporate the town's name, that specific usage may utilize an apostrophe.

For an extensive list of cities and towns in states throughout the United States, visit U.S. cities and towns shown in their respective time zones.

Be sure and visit our collection of unusual, bizarre or humorous names of towns.
Cities, Towns and place names in Texas
Abernathy, Texas
Abilene, Texas
Advance, Texas
Alamo, Texas
Alamo Heights, TX.
Albany, Texas
Alice, Texas
Alpine, Texas
Alta Loma, Texas
Alto, Texas
Alvarado, Texas
Alvin, Texas
Amarillo, Texas
Anderson, Texas
Andrews, Texas
Angleton, Texas
Anson, Texas
Anthony, Texas
Anton, Texas
Arcadia, Texas
Archer City, TX.
Arizona, Texas
Arlington, Texas
Armstrong, Texas
Asherton, Texas
Asia, Texas
Aspermont, Texas
Austin, Texas
Azle, Texas
Baby Head, Texas
Bacliff, Texas
Bacon, Texas
Baird, Texas
Balch Springs, TX.
Ballinger, Texas
Bandera, Texas
Bangs, Texas
Barrett, Texas
Bartlett, Texas
Bay City, Texas
Baytown, Texas
Beaukiss, Texas
Beaumont, Texas
Bedford, Texas
Bee Cave, Texas
Bee House, Texas
Bellaire, Texas
Bellmead, Texas
Bellville, Texas
Belton, Texas
Ben Arnold, Texas
Ben Franklin, TX.
Ben Hur, Texas
Ben Wheeler, TX.
Benbrook, Texas
Benjamin, Texas
Bethlehem, Texas
Big Lake, Texas
Big Spring, Texas
Bigfoot, Texas
Birthright, Texas
Bishop, Texas
Black Ankle, TX.
Blackjack, Texas
Blanket, Texas
Bleiblerville, Texas
Bloomington, Texas
Blowout, Texas
Blue Mound, Texas
Bobo, Texas
Bogata, Texas
Bonham, Texas
Bonus, Texas
Bootleg, Texas
Borger, Texas
Bovina, Texas
Bowie, Texas
Brackettville, Texas
Brady, Texas
Breckenridge, Texas
Brenham, Texas
Bridge City, Texas
Bridgeport, Texas
Brownfield, Texas
Brownsville, Texas
Brownwood, Texas
Bryan, Texas
Buffalo, Texas
Buffalo Mop, Texas
Bug Tussle, Texas
Buna, Texas
Burkburnett, Texas
Burleson, Texas
Burnet, Texas
Cactus, Texas
Caldwell, Texas
Calvert, Texas
Camelot, Texas
Cameron, Texas
Canadian, Texas
Canton, Texas
Canyon, Texas
Carrollton, Texas
Carthage, Texas
Cash, Texas
Castroville, Texas
Cedar Hill, Texas
Cee Vee, Texas
Celina, Texas
Center, Texas
Centerville, Texas
Cesar Chavez, Texas
Channelview, Texas
Channing, Texas
Charlotte, Texas
Chat, Texas
Cheapside, Texas
Cheek, Texas
Chihuahua, Texas
Childress, Texas
Chillicothe, Texas
China, Texas
China Grove, Texas
Chocolate Bayou, TX.
Choice, Texas
Chunky, Texas
Circleback, Texas
Cisco, Texas
Clarksville, Texas
Claude, Texas
Clear Lake Shores, TX.
Cleburne, Texas
Cleveland, Texas
Click, Texas
Clifton, Texas
Climax, Texas
Clint, Texas
Clute, Texas
Clyde, Texas
Cockrell Hill, TX.
Coffee City, Texas
Coffeeville, Texas
Coke, Texas
Coldspring, Texas
Coleman, Texas
College Station, TX.
Cologne, Texas
Colorado, Texas
Colorado City, Texas
Columbus, Texas
Comanche, Texas
Comfort, Texas
Commerce, Texas
Conception, Texas
Conroe, Texas
Converse, Texas
Cool, Texas
Cooper, Texas
Coppell, Texas
Copperas Cove, Texas
Corpus Christi, Texas
Corrigan, Texas
Corsicana, Texas
Cost, Texas
Crane, Texas
Crisp, Texas
Crockett, Texas
Crosby, Texas
Crosbyton, Texas
Cross Plains, Texas
Crowell, Texas
Crowley, Texas
Crume Gin, Texas
Crystal City, Texas
Cuba, Texas
Cude Crossing Windmill, TX.
Cut and Shoot, TX.
Cuthand, Texas
Cyclone, Texas
Dalhart, Texas
Dallas, Texas
De Kalb, Texas
De Leon, Texas
De Soto, Texas
Deadwood, Texas
Deer Park, Texas
Del Monte, Texas
Del Rio, Texas
Dell City, Texas
Democrat, Texas
Denison, Texas
Denton, Texas
Devine, Texas
Dickens, Texas
Dickinson, Texas
Dilley, Texas
Dime Box, Texas
Dimple, Texas
Ding Dong, Texas
Doc Brown, Texas
Donna, Texas
Doolittle, Texas
Dripping Springs, TX.
Driscoll, Texas
Dublin, Texas
Dumas, Texas
Eagle Lake, Texas
Eagle Pass, Texas
Earth, Texas
Easter, Texas
Eastland, Texas
Eden, Texas
Edna, Texas
Egypt, Texas
El Campo, Texas
El Paso, Texas
Electra, Texas
Electric City, TX.
Elevation, Texas
Elgin, Texas
Elsa, Texas
Emory, Texas
Energy, Texas
Ennis, Texas
Eulogy, Texas
Everman, Texas
Fabens, Texas
Fair Play, Texas
Fairfield, Texas
Fairy, Texas
Faker, Texas
Farmersville, Texas
Farwell, Texas
Ferris, Texas
Fink, Texas
Flugrath, Texas
Fog Town, Texas
Forest Hill, Texas
Ft. Bliss, Texas
Fort Davis, Texas
Fort Hancock, TX.
Fort Spunky, TX.
Fort Worth, Texas
Franklin, Texas
Freeport, Texas
Friday, Texas
Frijole, Texas
Frisco, Texas
Frog Hop, Texas
Frognot, Texas
Gail, Texas
Galveston, Texas
Garden City, Texas
Garland, Texas
Garrison, Texas
Gay Hill, Texas
Georgetown, Texas
Germany, Texas
Gilmer, Texas
Gladewater, Texas
Glen Rose, Texas
Goldthwaite, Texas
Gonzales, Texas
Goober Hill, Texas
Good Neighbor, TX.
Goodnight, Texas
Gorman, Texas
Graham, Texas
Granbury, Texas
Grand Prairie, TX.
Grand Saline, Texas
Granger, Texas
Grapeland, Texas
Grapevine, Texas
Greenville, Texas
Groves, Texas
Groveton, Texas
Gun Barrel City, TX.
Gunsight, Texas
Guthrie, Texas
Guys Store, Texas
Hale Center, Texas
Hallettsville, Texas
Hallsville, Texas
Hamilton, Texas
Hamlin, Texas
Happy Hollow, Texas
Harlingen, Texas
Haskell, Texas
Hearne, Texas
Hebbronville, Texas
Heckville, Texas
Hemphill, Texas
Hempstead, Texas
Henderson, Texas
Henrietta, Texas
Hereford, Texas
Hermits Cove, Texas
Hidalgo, Texas
Highland Park, Texas
Highlands, Texas
Hillsboro, Texas
Hitchcock, Texas
Hogeye, Texas
Hondo, Texas
Honey Grove, Texas
Hooks, Texas
Hoop and Holler, TX.
Houston, Texas
Hubbard, Texas
Hughes Springs, TX.
Humble, Texas
Huntington, Texas
Huntsville, Texas
Hurst, Texas
Hutchins, Texas
Idalou, Texas
India, Texas
Iowa Park, Texas
Ireland, Texas
Irving, Texas
Israel, Texas
Italy, Texas
Itasca, Texas
Jacinto City, Texas
Jacksboro, Texas
Jacksonville, Texas
Jasper, Texas
Java, Texas
Jefferson, Texas
Johnson City, Texas
Jones Creek, Texas
Jot 'Em Down, Texas
Jumbo, Texas
Junction, Texas
Justin, Texas
Karnes City, Texas
Katy, Texas
Kaufman, Texas
Keene, Texas
Keller, Texas
Kent, Texas
Kermit, Texas


Kilgore, Texas
Kingsland, Texas
Kingston, Texas
Kingsville, Texas
Kingswood, Texas
Kingwood, Texas
Kirby, Texas
Kirbyville, Texas
Knox City, Texas
Kokernot, Texas
Kokomo, Texas
Kosciusko, Texas
Kyle, Texas
La Grange, Texas
Lake Jackson, TX.
Lake Worth, TX.
Lancaster, Texas
Laredo, Texas
Las Vegas, Texas
Latexo, Texas
Lazbuddie, Texas
League City, Texas
Leonard, Texas
Lewisville, Texas
Liberty, Texas
Lindale, Texas
Linden, Texas
Lipscomb, Texas
Little Hope, Texas
Littlefield, Texas
Locker, Texas
Lockhart, Texas
Lockney, Texas
Loco, Texas
Log Cabin, Texas
Lolita, Texas
Longview, Texas
Looneyville, Texas
Lorenzo, Texas
Los Angeles, Texas
Lovelady, Texas
Loving, Texas
Lubbock, Texas
Lufkin, Texas
Lyford, Texas
Lytle, Texas
Mabank, Texas
Madisonville, Texas
Magic City, Texas
Magnet, Texas
Mansfield, Texas
Marathon, Texas
Marble Falls, Texas
Marlin, Texas
Marshall, Texas
Mason, Texas
Matador, Texas
Mathis, Texas
Maud, Texas
McAllen, Texas
McCamey, Texas
McGregor, Texas
McKinney, Texas
McLean, Texas
McNair, Texas
Menard, Texas
Mentone, Texas
Mercedes, Texas
Mesquite, Texas
Miami, Texas
Midland, Texas
Mineral Wells, Texas
Mission, Texas
Missouri City, Texas
Monkstown, Texas
Montague, Texas
Moonshine Hill, Texas
Morton, Texas
Moscow, Texas
Mudville, Texas
Muleshoe, Texas
Nacogdoches, Texas
Nameless, Texas
Naples, Texas
Nash, Texas
Natalia, Texas
Necessity, Texas
Nederland, Texas
Needmore, Texas
Needville, Texas
Negro Crossing, Texas
Negros Liberty Settlement, TX.
Nevada, Texas
New Boston, Texas
New Braunfels, Texas
New York, Texas
Newton, Texas
Nickel, Texas
Nimrod, Texas
Nix, Texas
Nixon, Texas
Nobility, Texas
Noodle, Texas
Noonday, Texas
North Richland Hills, TX.
Notrees, Texas
Novice, Texas
Oatmeal, Texas
Odessa, Texas
O'Donnell, Texas
Ohio, Texas
Oklahoma, Texas
Old Dime Box, Texas
Old Glory, Texas
Olney, Texas
Olton, Texas
Onalaska, Texas
Onion Creek, Texas
Orange, Texas
Orla, Texas
Orozimbo, Texas
Overton, Texas
Ozona, Texas
Paint Rock, Texas
Palestine, Texas
Pampa, Texas
Pancake, Texas
Panhandle, Texas
Paris, Texas
Pasadena, Texas
Pearland, Texas
Pearsall, Texas
Pecos, Texas
Pep, Texas
Perryton, Texas
Personville, Texas
Petersburg, Texas
Phillips, Texas
Pilot Point, Texas
Pine Springs, Texas
Pineland, Texas
Plains, Texas
Plainview, Texas
Plano, Texas
Pleasanton, Texas
Poetry, Texas
Pointblank, Texas
Ponder, Texas
Poorboy Landing, TX.
Port Arthur, Texas
Port Lavaca, Texas
Porter, Texas
Post, Texas
Prairie View, Texas
Presidio, Texas
Progress, Texas
Puerto Rico, Texas
Pumpkin, Texas
Pumpkin Center, TX.
Quanah, Texas
Queen City, Texas
Quicksand, Texas
Quitman, Texas
Ragtown, Texas
Raisin, Texas
Ralls, Texas
Rambo, Texas
Ranger, Texas
Rankin, Texas
Ransom Canyon, TX.
Raymondville, Texas
Redford, Texas
Richardson, Texas
Richland Hills, Texas
Richmond, Texas
Rio Grande City, TX.
Rio Hondo, Texas
Rising Star, Texas
River Oaks, Texas
Roach, Texas
Robstown, Texas
Roby, Texas
Rockdale, Texas
Rockport, Texas
Rocksprings, Texas
Rockwall, Texas
Rogers, Texas
Rollover, Texas
Roscoe, Texas
Rosebud, Texas
Rosenberg, Texas
Round Rock, Texas
Rowlett, Texas
Royalty, Texas
Runge, Texas
Rusk, Texas
Sam Rayburn, Texas
San Angelo, Texas
San Antonio, Texas
San Benito, Texas
San Francisco, Texas
San Juan, Texas
San Leon, Texas
San Marcos, Texas
San Saba, Texas
Sanderson, Texas
Sanger, Texas
Santa Anna, Texas
Saturn, Texas
Scissors, Texas
Scotland, Texas
Seabrook, Texas
Seadrift, Texas
Seagraves, Texas
Sealy, Texas
Seminole, Texas
Sempronius, Texas
Seven Sisters, TX.
Shafter, Texas
Shallowater, Texas
Shamrock, Texas
Sheldon, Texas
Sherman, Texas
Sierra Blanca, TX.
Silverton, Texas
Slaton, Texas
Sleepy Hollow, TX.
Smithville, Texas
Snyder, Texas
Somerville, Texas
Sonora, Texas
Sour Lake, Texas
Southlake, Texas
Southside Place, TX.
Spearman, Texas
Spring, Texas
Spring Valley, Texas
Springtown, Texas
Spur, Texas
Stagecoach, Texas
Stafford, Texas
Stamford, Texas
Stamps, Texas
Stanton, Texas
Stephenville, Texas
Sterling City, Texas
Stinnett, Texas
Stockdale, Texas
Stranger, Texas
Stratford, Texas
Stringtown, Texas
Study Butte, Texas
Styx, Texas
Sugar Land, Texas
Sulphur Springs, TX.
Sundown, Texas
Sweeny, Texas
Sweetwater, Texas
Swiss Alp, Texas
Taft, Texas
Tarzan, Texas
Taylor, Texas
Teague, Texas
Telegraph, Texas
Telephone, Texas
Temple, Texas
Tennessee, Texas
Terrell, Texas
Terrell Hills, Texas
Tesnus, Texas
Texarkana, Texas
Texas City, Texas
Texhoma, Texas
Thorndale, Texas
Three Rivers, Texas
Three Way, Texas
Thrifty, Texas
Throckmorton, Texas
Tigertown, Texas
Tigerville, Texas
Tiki Island, Texas
Tilden, Texas
Timpson, Texas
Tin Top, Texas
Tom Bean, Texas
Toyah, Texas
Trinidad, Texas
Trinity, Texas
Trophy Club, Texas
Troup, Texas
Tulia, Texas
Tuxedo, Texas
Twitty, Texas
Tyler, Texas
Uncertain, Texas
Valentine, Texas
Van, Texas
Van Alstyne, Texas
Van Horn, Texas
Vega, Texas
Veribest, Texas
Vernon, Texas
Victoria, Texas
Vidor, Texas
Waco, Texas
Wake Village, Texas
Wallis, Texas
Waxahachie, Texas
Wealthy, Texas
Weatherford, Texas
Webster, Texas
Weeping Mary, Texas
Welcome, Texas
Welfare, Texas
Wellington, Texas
West, Texas
West Columbia, Texas
Wharton, Texas
Wheeler, Texas
White Deer, Texas
White Settlement, TX.
Whiteface, Texas
Whitesboro, Texas
Whitney, Texas
Wichita Falls, Texas
Willis Point, Texas
Wilmer, Texas
Wink, Texas
Winnie, Texas
Winnsboro, Texas
Winters, Texas
Wolfe City, Texas
Woodsboro, Texas
Woodville, Texas
Wortham, Texas
Wylie, Texas
Yoakum, Texas
Yorktown, Texas
Yznaga, Texas
Zapata, Texas
Zipp, Texas
Zipperlandville, Texas
Zunkerville, Texas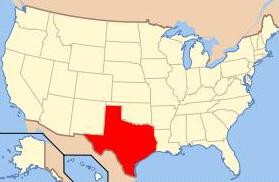 U.S. map showing the location of Texas