| | | | | |
| --- | --- | --- | --- | --- |
| City, town or village | County | State | Country | Elevation |
| Truth or Consequences | Sierra County | New Mexico | USA | 4245 feet (1294 meters) |
| | | |
| --- | --- | --- |
| Latitude (DMS format) | Longitude (DMS format) | Map on which this town can be found |
| 33° 7' 42"N | 107° 15' 10"W | Cuchillo |
Truth or Consequences is located in Sierra County, in southwestern New Mexico. T or C -- as it's known within the state -- is situated along the banks of the Rio Grande River and is renowned for its many natural mineral hot springs.

Origin of its unusual name
Truth or Consequences was originally incorporated as Hot Springs, New Mexico, and later became the county seat. It was known for it's beautiful desert and mountain terrain and was a popular health resort and tourist destination for New Mexicans. In 1950, the town elected to change its name to Truth or Consequences, garnering an incredible amount of free publicity for the small town. Truth or Consequences was a hit game show hosted by Ralph Edwards, that began on the radio in 1940. A television version of the quiz show began airing in 1950, and they offered to broadcast the initial show from a town that renamed itself after the show. In addition to hosting Truth or Consequences on the radio, as well as the first year of the TV version, Ralph Edwards was a broadcast pioneer who created and produced a number of popular radio and television shows, including the long-running This Is Your Life. Ralph Edwards not only broadcast the first episode from the newly-dubbed Truth or Consequences, New Mexico, but he faithfully returned each year for decades to help the town celebrate at its annual Truth or Consequences Fiesta. Over the years, Jack Bailey, Bob Hilton, Larry Anderson and Bob Barker each took a turn at hosting the popular Truth or Consequences game show.

Just as they had hoped, their decision to rename the town after the show yielded many years of free nationwide publicity, increased tourism and helped bring new residents to the area.

Nearby cities and towns:
Hillsboro, New Mexico (to the southwest)
Las Cruces, New Mexico (to the southeast)
Datil, New Mexico (to the northwest)
Socorro, New Mexico (to the northeast)
Tularosa, New Mexico (to the east)

Time Zone: Truth or Consequences, New Mexico is in the Mountain Time Zone.

Over the years, points of interest in the region have included:
* Gila National Forest, located west of Truth or Consequences
* Caballo Lake State Park, south of T or C
* Elephant Butte State Park, north of T or C
* Mogollon (a gold mining ghost town), near Glenwood, New Mexico
* Cuchillo (a ghost town), 15 miles northwest of T or C on NM 52
* Lake Valley (a silver mining ghost town), 17 miles south of Hillsboro on NM 27
* The Catwalk National Recreation Trail, northwest of T or C
* Gila Cliff Dwellings National Monument, west of T or C

Recreational opportunities in the area
Camping, fishing, hunting, hiking, picnicking, boating, sailing, swimming, water-skiing, windsurfing, canoeing, parasailing, rock hounding, mountain biking, birding, photography, golfing, and horseback riding.

Wildlife found in southwestern New Mexico
Antelope, deer, bear, javelina (peccary), bobcat, bighorn sheep, elk, turkey, mountain lion, porcupine, rabbit, fox, coyote, snapping turtles, white-nosed coati, rattlesnake, pelican, roadrunner, egret, quail, crane, loon, geese, duck, goshawk and the eagle. Anglers will find a variety of fish including walleye, catfish, sunfish, northern pike, bluegill, crappie, rainbow trout and largemouth bass.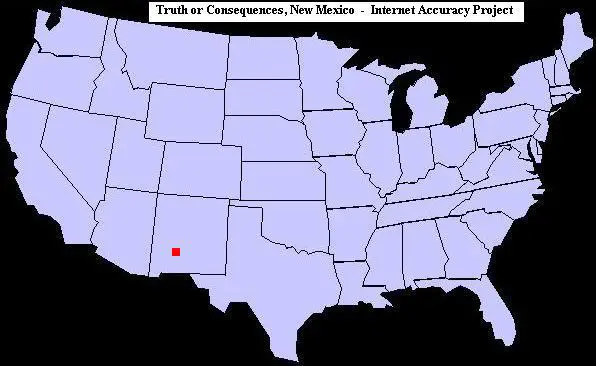 U.S. map showing the location of Truth or Consequences, New Mexico
For an extensive list of other odd town names in the United States, visit our page of unusual, bizarre or humorous names of towns.