| | | | | |
| --- | --- | --- | --- | --- |
| City, town or village | County | State | Country | Elevation |
| Hell | Livingston County | Michigan | USA | 889 feet (271 meters) |
| | | |
| --- | --- | --- |
| Latitude (DMS format) | Longitude (DMS format) | Map on which this town can be found |
| 42° 26' 05"N | 83° 59' 06"W | Pinckney |
The tiny community of Hell is located in Livingston County, in southeastern Michigan. Found approximately 60 miles west of Detroit, the town sits in an area of lakes and waterways popular with vacationers, anglers, hikers and mountain bikers.

Residents, known as Hellions, largely embrace their town's unusual name by organizing special celebrations on Friday the 13th, and Halloween. Hell-themed souvenirs are popular items with visitors who sometimes travel hundreds of miles out of their way so they can say they've "Been to Hell and back." The notoriety of the town and its bizarre name often draws the attention of the media and particularly morning radio shows on Friday the 13th, and especially Halloween.

Over the years, a number of fun items have been offered to promote the town and take advantage of its infamous name:
* Dehydrated water from Hell Creek.
* An "Official Deed" to your very own square inch of Hell.
* A Bat Outta Hell (a baseball bat from Hell, Michigan).
* License plate brackets for your car that tell the world to "Go to Hell, MI."
* A multitude of t-shirts with tongue-in-cheek expressions such as "Hell Froze Over" (yes, it does get very cold in Michigan), or "333: Only half as evil."
* Scary Teddy Bears known as "Teddy Scares."
* One of the most unique gift items is a souvenir diploma from the fictional "Damnation University" in Hell, Michigan.
* Even more amusing than the above Damnation college degree is the opportunity(?) to serve as Mayor of Hell for a day. You don't even have to sell your soul to act as Mayor of Hell, Michigan!

Origin of its unusual name
There are a couple of competing stories about the origin of the place name Hell, Michigan. The leading account states that in the 1830s, a pair of newly-arrived German travelers commented to one another in German on what a bright and beautiful day it was in the village. The locals overheard their comment "So schoene und hell!" and thus passed along a humorous story of the foreigner's dubbing the town "Hell." So, in 1841, when asked by Michigan officials what he wanted the name of his settlement to be, George Reeves, the pioneer who settled the area, said, "Call it Hell for all I care…"
The other theory is completely understandable to anyone who's traveled through bug-ridden wetlands at the height of summer. Frontiersmen who traveled the waterways of the low and swampy region at the peak of the mosquito season were likewise thought to have called the area "Hell."

Nearby cities and towns:
Detroit, Michigan (to the east)
Stockbridge, Michigan (to the west)
Lansing, Michigan (to the northwest)
Flint, Michigan (to the northeast)
Jackson, Michigan (to the southwest)
Ann Arbor, Michigan (to the southeast)

Time Zone: Hell, Michigan is in the Eastern Time Zone.

Over the years, points of interest in the region have included:
* Pinckney State Recreation Area, south of Hell, Michigan
* Waterloo-Pinckney Trail, southwest of Hell, Michigan
* Waterloo State Recreation Area, southwest of Hell, Michigan
* Brighton State Recreation Area, northeast of Hell
* Island Lake State Recreation Area, east of Hell
* Highland Recreation Area, northeast of Hell
* Proud Lake State Recreation Area, northeast of Hell
* Maybury State Park, east of Hell
* Lakelands Trail State Park

Lakes near Hell, Michigan
Appleton Lake, Big Portage Lake, Bishop Lake, Blind Lake, Bruin Lake, Crooked Lake, Doyle Lake, Four Mile Lake, Gosling Lake, Green Lake, Half Moon Lake, Hiland Lake, Joslin Lake, North Lake, Silver Lake, South Lake, Pickerel Lake, Whitmore Lake, and Woodland Lake.

Recreational opportunities in the area
Camping, canoeing, kayaking, boating, fishing, ice fishing, hunting, trapping, skeet shooting, picnicking, swimming, wildlife viewing, photography, mountain biking, hiking, cross-country skiing, snowshoeing, snowmobiling, hot air ballooning, golfing, metal detecting and horseback riding.

Wildlife found in southeastern Michigan
Deer, rabbit, squirrel, turkey, woodcock, pheasant, quail, grouse, duck, and geese are amongst the varied wildlife found in the fields, woodlands, hills and wetlands of southeastern Michigan.

Anglers will find pike, trout, bass, catfish, sunfish and panfish in area lakes, streams and rivers.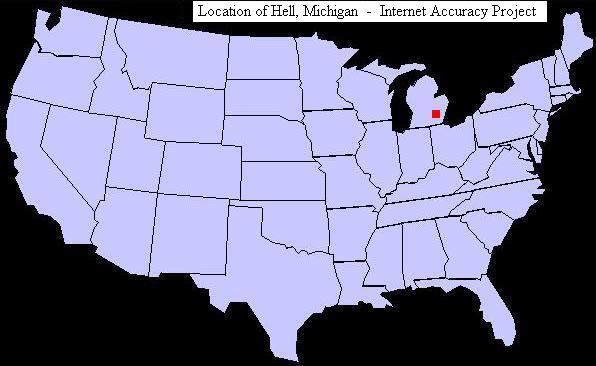 U.S. map showing the location of Hell, Michigan
For our list of other Hellish and scary towns, visit U.S. town names associated with Halloween.

For an extensive list of other odd town names in the United States, visit our page of unusual, bizarre or humorous names of towns.