This page offers an alphabetical listing of place names throughout California. This is not a complete list of every last place name that has ever existed in California. It does include not only a sampling of the largest communities in the Golden State, but also a number of smaller towns.

Located in the Pacific Time Zone, California can be found on the Pacific coast of North America, and is bordered on the north by Oregon, on the east by Nevada and Arizona, and on the south by Baja California in Mexico.

Each of these cities, towns and place names has been officially recognized as a populated place by the U.S. government.

PUNCTUATION NOTE: The U.S. government does not use possessive apostrophes in U.S. place names. Even when proper punctuation would call for the use of a possessive apostrophe in a city or town name, they are not used. When the name of local businesses, or street names incorporate the town's name, that specific usage may utilize an apostrophe.

For an extensive list of cities and towns in states throughout the United States, visit U.S. cities and towns shown in their respective time zones.

Also be sure and visit our collection of unusual, bizarre or humorous names of towns.
Cities, Towns and place names in California
Academy, California
Adelanto, California
Adin, California
Advance, California
Ager, California
Agoura Hills, California
Alameda, California
Alberhill, California
Alhambra, California
Alpine, California
Alta Vista, California
Altadena, California
Alturas, California
Amsterdam, California
Anaheim, California
Anderson, California
Angels Camp, California
Apple Valley, CA.
Aptos, California
Arcade, California
Arcadia, California
Arcata, California
Arnold, California
Artesia, California
Arrowhead Springs, CA.
Arvin, California
Atascadero, California
Atlas, California
Atwater, California
Auburn, California
Avalon, California
Avenal, California
Avocado, California
Azusa, California
Badwater, California
Bakersfield, California
Baldwin Park, California
Banning, California
Barstow, California
Bath, California
Bee Rock, California
Bel Air, California
Bell, California
Bell Gardens, California
Bellflower, California
Ben Hur, California
Benbow, California
Benicia, California
Berkeley, California
Beverly Hills, California
Bieber, California
Big Bear City, CA.
Big Bear Lake, CA.
Big Bunch, California
Big Pine, California
Big Sur, California
Biggs, California
Birds Landing, CA.
Bishop, California
Black Point, California
Blinzing, California
Bliss, California
Blue Jay, California
Blue Lake, California
Blue Tent, California
Blythe, California
Bodega Bay, California
Boiling Point, CA.
Bombay, California
Bonita, California
Boonville, California
Bootjack, California
Boron, California
Boulder Creek, CA.
Bradbury, California
Brawley, California
Brea, California
Brentwood, California
Bridgeport, California
Bryn Mawr, California
Buena Park, California
Buckeye Flat, California
Bully Hill, California
Bumblebee, California
Bummerville, California
Burbank, California
Burlingame, California
Burney, California
Burnt Ranch, California
Cactus, California
Cactus City, California
Calabasas, California
Calexico, California
California City, California
Calistoga, California
Camarillo, California
Cambria, California
Campbell, California
Canoga Park, California
Canyondam, California
Capistrano Beach, CA.
Capitola, California
Carpinteria, California
Card Place, California
Carlsbad, California
Carmel, California
Carmichael, California
Carson, California
Castaic, California
Castro Valley, CA.
Cathedral City, CA.
Catheys Valley, CA.
Cedarpines Park, CA.
Cedarville, California
Ceres, California
Cerritos, California
Challenge, California
Chatsworth, California
Chester, California
Chico, California
China Lake, California
Chino, California
Chiquita, California
Chowchilla, California
Chula Vista, California
Citrus Heights, CA.
Clairemont, California
Claremont, California
Clearlake, California
Clipper Gap, California
Cloverdale, California
Clovis, California
Coachella, California
Coalinga, California
Coarsegold, California
Coffee, California
Coffee Creek, California
Coleville, California
Colfax, California
Colton, California
Colusa, California
Concepcion, California
Concord, California
Condemned Bar, California
Confidence, California
Convict Lake, California
Cool, California
Copperopolis, California
Corcoran, California
Corning, California
Corona, California
Coronado, California
Corte Madera, California
Costa Mesa, California
Cotati, California
Cottonwood, California
Coulterville, California
Covelo, California
Covina, California
Coyote Wells, California
Crescent City, California
Crestline, California
Crestmore, California
Crockett, California
Crowley Lake, California
Crown Jewel, California
Cuba, California
Cudahy, California
Culver City, California
Cupertino, California
Cypress, California
Daly City, California
Dana Point, California
Danville, California
Davis, California
Deadwood, California
Del Cerro, California
Del Mar, California
Del Rosa, California
Delano, California
Desert Hot Springs, CA.
Desert Relief, California
Devil Canyon, California
Devils Den, California
Devils Elbow, California
Devore, California
Dew Drop, California
Diamond Bar, California
Diamond Springs, CA.
Dinuba, California
Dixieland, California
Dixon, California
Dog Town, California
Doghouse Junction, CA.
Dogtown, California
Dollar Point, California
Dominguez, California
Dorris, California
Dos Palos, California
Downey, California
Downieville, California
Drawbridge, California
Drum, California
Duarte, California
Dublin, California
Dunmovin, California
Dunsmuir, California
Eagle Mountain, CA.
Eagle Rock, California
Edgemont, California
El Cajon, California
El Centro, California
El Dorado Hills, CA.
El Monte, California
El Rio, California
El Segundo, California
El Toro, California
Elk Grove, California
Encanto, California
Encinitas, California
Encino, California
Enterprise, California
Escalon, California
Escondido, California
Etna, California
Eureka, California
Fair Oaks, California
Fair Play, California
Fairbanks, California
Fairfax, California
Fairfield, California
Fall River Mills, CA.
Fallbrook, California
Fallen Leaf, California
False Klamath, California
Farmersville, California
Fawnskin, California
Felton, California
Ferndale, California
Fernwood, California
Fickle Hill, California
Fiddletown, California
Firebaugh, California
Firebrick, California
Fish Rock, California
Five Brooks, California
Fizzben Heights, CA.
Flea Valley, California
Folsom, California
Fontana, California
Fort Bidwell, California
Fort Bragg, California
Fort Dick, California
Fort Jones, California
Fortuna, California
Foster City, California
Fountain Valley, CA.
Fowler, California
Frazier Park, California
Fremont, California
Fresno, California
Frink, California
Fruitland, California
Furnace Creek, CA.
Galt, California
Garberville, California
Garden Grove, California
Gardena, California
Gas Point, California
Gasquet, California
Geyserville, California
Gilroy, California
Glen Avon, California
Glendale, California
Glendora, California
Goat Rock, California
Goleta, California
Gonzales, California
Grabtown, California
Granada Hills, California
Grantville, California
Grass Valley, California
Greenfield, California
Gridley, California
Grossmont, California
Gualala, California
Guerneville, California
Gustine, California
Half Moon Bay, California
Hallelujah Junction, CA.
Hambone, California
Hamburg, California
Hanford, California
Happy Camp, California
Harbison Canyon, CA.
Harbor City, California
Harlem Springs, California
Hat Creek, California
Hawaiian Gardens, CA.
Hawthorne, California
Hayward, California
Healdsburg, California
Hellhole Palms, CA.
Helltown, California
Hemet, California
Hercules, California
Hermosa Beach, CA.
Hershey, California
Hesperia, California
Hicksville, California
Hidden Hills, California
Highgrove, California
Highland, California
Hirschdale, California
Hogtown, California
Hollister, California
Hollywood, California
Holtville, California
Home Gardens, CA.
Honeydew, California
Hooker, California
Hopland, California
Hornbrook, California
Hornitos, California
Huntington Beach, CA.
Huron, California
Iceland, California
Idlewild, California
Idria, California
Igo, California
Illinoistown, California
Imperial, California
Imperial Beach, CA.
Independence, California
Indian Wells, California
Indio, California
Inglewood, California
Inyokern, California
Ione, California
Iron Horse, California
Ironsides, California
Irvine, California
Irwindale, California
Ivanhoe, California
Jackson, California
Jamestown, California
Java, California
Jenner, California
Jenny Lind, California
Jolon, California
Joshua Tree, California
June Lake, California
Jupiter, California
Keeler, California
Kekawaka, California
Kerman, California
Kernville, California
Khoonkhwuttunne, CA.
Khwunrghunme, California
Kilowatt, California
King Salmon, California
Kings Beach, California
Kingsburg, California
Klamath, California
Klinefelter, California
Komandorski Village, CA.
Kunuqug, California
La Crescenta, CA.
La Habra, California
La Honda, California
La Jolla, California
La Mesa, California
La Mirada, California
La Puente, California
La Verne, California
Laguna Beach, California
Lake Arrowhead, CA.
Lake Forest, California
Lake Isabella, CA.
Lake of the Pines, CA.
Lake of the Woods, CA.
Lakeland Village, CA.
Lakeport, California
Lakeside, California
Lakewood, California
Lancaster, California
Larkspur, California
Last Chance, California
Lawndale, California
Laws, California
Lawyers Bar, California
Laytonville, California
Lee Vining, California
Leggett, California
Lemon Grove, California
Lemoncove, California
Lemoore, California
Lennox, California
Lick, California
Likely, California
Lincoln, California
Lindsay, California
Little Lake, California
Little Penny, California
Live Oak, California
Livingston, California
Lodi, California
Loleta, California
Loma Linda, California
Lomita, California
Lompoc, California
London, California
Lone Pine, California
Long Beach, California
Loomis, California
Los Alamitos, California
Los Altos, California
Los Angeles, California
Los Banos, California
Los Gatos, California
Los Serranos, CA.
Loyalton, California
Lucerne, California
Lucerne Valley, CA.
Luckie Place, California
Lumpkin, California
Lynwood, California
Macdoel, California
Madera, California
Magnet, California
Malibu, California
Mammoth Lakes, California
Manhattan Beach, CA.
Manlove, California
Manteca, California
Maricopa, California
Marina Del Rey, CA.
Mariposa, California
Markleeville, California
Mars, California
Martinez, California
Marysville, California
Maxwell, California
Maywood, California


McCloud, California
McFarland, California
McKinleyville, California
Mecca, California
Mendocino, California
Menlo Park, California
Mentone, California
Merced, California
Michigan Bar, California
Michopdo, California
Mill Valley, California
Milpitas, California
Mineral, California
Mineral King, California
Minnesota, California
Mira Loma, California
Mishopshnow, California
Mission Hills, California
Mission Viejo, California
Missouri Triangle, California
Moccasin, California
Modesto, California
Mojave, California
Monrovia, California
Montague, California
Montclair, California
Montebello, California
Montecito, California
Monterey, California
Monterey Park, California
Moorpark, California
Moraga, California
Moreno, California
Moreno Valley, California
Morgan Hill, California
Mormon Bar, California
Morro Bay, California
Mount Shasta, California
Mountain View, California
Mt. Baldy, California
Mt. Helix, California
Murrieta, California
Myers Flat, California
Mystic, California
Napa, California
National City, California
Needles, California
Nevada, California
Nevada City, California
New Blinzing, California
Newbury Park, California
Newhall, California
Newlove, California
Newman, California
Newport Beach, California
Nice, California
Nipinnawasee, California
Nipomo, California
No Mirage, California
Norco, California
North Hollywood, CA.
Northridge, California
Norwalk, California
Novato, California
Noyo, California
Nuevo, California
Nut Tree, California
Oakdale, California
Oakhurst, California
Oakland, California
Ocean Roar, California
Oceanside, California
Ohm, California
Oildale, California
Ojai, California
Olancha, California
Old Corral, California
Ono, California
Ontario, California
Orange, California
Orange Cove, California
Oregon House, California
Orinda, California
Orland, California
Oroville, California
Otay, California
Owl, California
Oxnard, California
Pacific Beach, California
Pacific Grove, California
Pacific Palisades, CA.
Pacifica, California
Pacoima, California
Palm Desert, California
Palm Springs, California
Palmdale, California
Palo Alto, California
Panama, California
Paradise, California
Parlier, California
Pasadena, California
Paso Robles, California
Patterson, California
Patton, California
Paymaster Landing, CA.
Pebble Beach, California
Pedley, California
Perris, California
Pescadero, California
Petaluma, California
Pettyjohn Place, CA.
Phelan, California
Pico Rivera, California
Piedmont, California
Pismo Beach, California
Pittsburg, California
Placentia, California
Placerville, California
Plaster City, California
Platina, California
Playa del Rey, CA.
Pleasant Hill, California
Pleasanton, California
Plymouth, California
Point Arena, California
Point Dune, California
Poker Flat, California
Pole Garden, California
Pollock Pines, CA.
Pomona, California
Port Hueneme, CA.
Porterville, California
Portola, California
Poverty Hill, California
Poway, California
Priest, California
Princeton, California
Prize, California
Pushawalla Palms, CA.
Quartz Hill, California
Quincy, California
Ragtown, California
Rancho Cordova, CA.
Rancho Mirage, California
Raymond, California
Red Bluff, California
Red Dog, California
Redding, California
Redlands, California
Redondo Beach, California
Redway, California
Redwood City, California
Reedley, California
Reefer City, California
Relief, California
Requa, California
Rescue, California
Reseda, California
Rialto, California
Richmond, California
Ridgecrest, California
Rio Bravo, California
Rio Dell, California
Rio Linda, California
Riverbank, California
Riverside, California
Roads End, California
Robbers Creek, CA.
Rocklin, California
Rodeo, California
Rohnert Park, CA.
Rolling Hills Estates, CA.
Romoland, California
Rosamond, California
Rosemead, California
Roseville, California
Rossmoor, California
Rough And Ready, CA.
Rowland Heights, CA.
Rubidoux, California
Sacramento, California
Salinas, California
Salton City, California
San Andreas, California
San Anselmo, California
San Bernardino, CA.
San Bruno, California
San Carlos, California
San Clemente, California
San Diego, California
San Dimas, California
San Fernando, California
San Francisco, California
San Gabriel, California
San Geronimo, California
San Jacinto, California
San Joaquin, California
San Jose, California
San Juan Bautista, CA.
San Juan Capistrano, CA.
San Leandro, California
San Lorenzo, California
San Lucas, California
San Luis Obispo, CA.
San Marcos, California
San Marino, California
San Mateo, California
San Miguel, California
San Pedro, California
San Rafael, California
San Ysidro, California
Sanger, California
Sanitarium, California
Santa Ana, California
Santa Barbara, California
Santa Clara, California
Santa Clarita, California
Santa Cruz, California
Santa Fe Springs, CA.
Santa Maria, California
Santa Monica, California
Santa Paula, California
Santa Rosa, California
Santa Venetia, California
Santee, California
Saratoga, California
Sausalito, California
Scarface, California
Scissors Crossing, CA.
Scotia, California
Scotland, California
Seal Beach, California
Sebastopol, California
Secret Canyon, California
Secret Town, California
Sedco Hills, California
Seiad Valley, California
Selma, California
Semitropic, California
Shasta, California
Shaver Lake, California
Sheepshead, California
Sherman Oaks, California
Shingle Springs, CA.
Shisholop, California
Shoshone, California
Siberia, California
Sierra Madre, California
Signal Hill, California
Silverado, California
Simi Valley, California
Singing Springs, CA.
Skidoo, California
Skyforest, California
Skyhigh, California
Skytop, California
Sleepy Hollow, California
Smartville, California
Smith River, California
Smoke Tree, California
Snoboy, California
Snow Tent, California
Soapweed, California
Soda Bay, California
Soda Springs, California
Soledad, California
Solvang, California
Sonoma, California
Sonora, California
South El Monte, CA.
South Gate, California
South Lake Tahoe, CA.
South Pasadena, CA.
South San Francisco, CA.
Sparkle, California
Spring Valley, California
Spyrock, California
Squabbletown, California
Squeaky Springs, CA.
St. Helena, California
Stanford, California
Stanton, California
Stinson Beach, California
Stockton, California
Stringtown, California
Stronghold, California
Studebaker, California
Studio City, California
Sucker Flat, California
Suisun City, California
Sun City, California
Sun Valley, California
Sunland, California
Sunnymead, California
Sunnyvale, California
Sunset Beach, California
Surprise Valley, CA.
Susanville, California
Sutter Creek, California
Swiss Bar, California
Taft, California
Tahoe City, California
Tarzana, California
Teakettle Junction, CA.
Tecopa, California
Tehachapi, California
Tehama, California
Temecula, California
Temple City, California
Thousand Oaks, CA.
Three Rivers, CA.
Tiburon, California
Timbuctoo, California
Tin Shack, California
Tipton, California
Toadtown, California
Tollhouse, California
Toms Place, California
Top of the World, CA.
Topanga, California
Topanga Beach, CA.
Topaz, California
Torrance, California
Town Talk, California
Trabuco Canyon, CA.
Tracy, California
Trinidad, California
Trinity Center, CA.
Trona, California
Truckee, California
Truckhaven, California
Truth Home, California
Tulare, California
Tulelake, California
Turlock, California
Tustin, California
Twain Harte, California
Twentynine Palms, CA.
Twin Lakes, California
Twin Peaks, California
Two Rock, California
Ukiah, California
Ultra, California
Universal City, CA.
University City, CA.
Upland, California
Vacaville, California
Valencia, California
Vallejo, California
Valley of Enchantment, CA.
Van Nuys, California
Venice, California
Ventura, California
Venus, California
Verdugo City, California
Vernon, California
Victorville, California
Vine Hill, California
Visalia, California
Vista, California
Volcano, California
Volcanoville, California
Wahoo, California
Walker, California
Walnut, California
Walnut Creek, California
Walnut Park, California
Waterford, California
Watsonville, California
Watts, California
Weaverville, California
Weed, California
Weedpatch, California
Weott, California
West Covina, California
West Hills, California
West Hollywood, CA.
West Point, California
West Sacramento, CA.
Westlake Village, CA.
Westminster, California
Westwood, California
Wheatland, California
Whiskey Springs, CA.
Whiskeytown, California
White Spot, California
Whittier, California
Wildomar, California
Williams, California
Willits, California
Willow Brook, CA.
Willow Creek, CA.
Willows, California
Wimp, California
Winters, California
Wokodot, California
Woodacre, California
Woodcrest, California
Woodlake, California
Woodland, California
Woodland Hills, CA.
Woodside, California
Wrightwood, California
Ydaloom, California
Yellowjacket, California
Yermo, California
Yorba Linda, California
Yosemite Village, CA.
You Bet, California
Yountville, California
Yreka, California
Yuba City, California
Yucaipa, California
Yucca Valley, CA.
Zurich, California
Zzyzx, California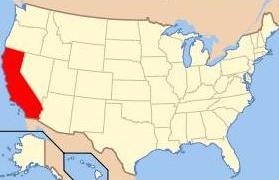 U.S. map showing the location of California